Archive for January 13th, 2020
https://scpr.org/archive
|
|
January 13 2020, 9:40 PM
In an interview with NPR on Monday, Defense Secretary Mark Esper said if U.S. troops or interests are threatened, the U.S. will have the right to retaliate.
https://scpr.org/archive
|
|
January 13 2020, 10:58 AM
This first budget ask is just the start of a long negotiation. And a number of potentially contentious issues — tax hikes, for example — were pointedly not on it.
There were no blog entries published on this date.
Take Two®
AirTalk®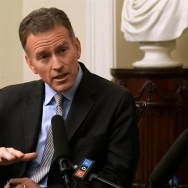 |
January 13 2020, 9:04 AM
We're kicking off the new year with two public radio favorites: AirTalk's Larry Mantle in conversation with Morning Edition host Steve Inskeep. Tune in to the live broadcast as the two discuss Inskeep's life in journalism.
|
January 13 2020, 8:59 AM
AirTalk's weekly political roundtable recaps the major headlines you might've missed in politics news over the weekend and looks ahead to the week to come.