From waffles and peacocks to brainiacs and airshows, here's how to spend your Southern California weekend after the rain dries out — if you're not already going to WonderCon.
FAMILY PICK
Swallows Day Parade
WHEN: Saturday, March 24, 9 a.m. - 5 p.m.
WHERE: Historic Town Center Park — 31852 El Camino Real, San Juan Capistrano
COST: FREE; MORE INFO
The three-month-long Fiesta de las Golondrinas celebrates of the return of the migratory songbird to Mission San Juan Capistrano. It culminates in a parade (starting at 11 a.m.) and an all-day Mercado featuring the Redneck Rodeo with tons of country music performers, a kids' play zone, local vendors and an awards ceremony to honor parade entrants.
---
BRAINY PICK
L.A. County Science and Engineering Fair
WHEN: Thursday-Saturday, March 22-24
WHERE: Pasadena Convention Center — 175 S. Euclid Ave., Pasadena
COST: FREE; MORE INFO
The next Albert Einstein could be toiling away here in Southern California. Preview the future and peruse projects from L.A. County's smartest students as they investigate our world's mysteries — and maybe propose a few solutions. We've moved way beyond baking soda volcanoes. 
---
FOODIE PICK
Vegan Street Fair 
WHEN: Sunday, March 25, 11 a.m. - 7 p.m.
WHERE: 11223 Chandler Blvd — North Hollywood
COST: FREE; MORE INFO
You can #EatAllTheVeganThings at this food fest ,where every culinary vendor will offer a $4-or-less bite-size portion. Admission is free, but you can buy Fast Passes ($8-54) to get to the front of lines, or Passports ($84) to nosh on bites from a smorgasbord of pre-selected vendors. There's also a beer garden.
---
MOVIE PICK
Amar y Vivir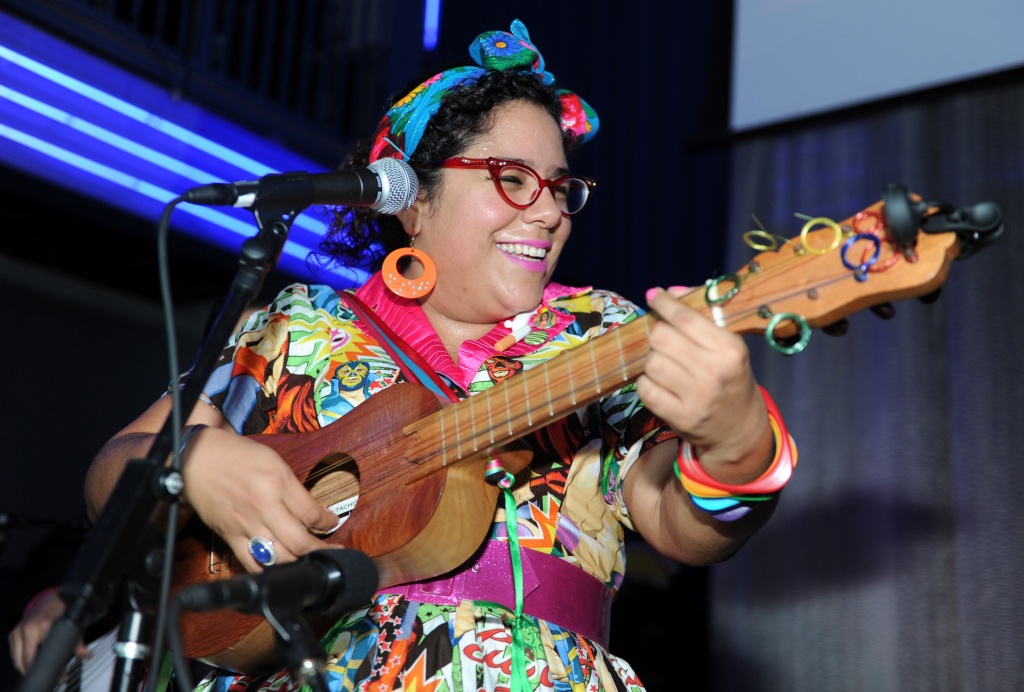 WHEN: Friday, March 23, 7 p.m.
WHERE: LA Plaza de Cultura y Artes — 501 N. Main St., downtown L.A.
COST: FREE; MORE INFO
Grammy-winning band La Santa Cecilia is dropping a visual album and you can experience it, along with a live performance by the band and a Q&A. The documentary follows the band on a journey into the heart of Mexico — a trip that inspired the album.
---
WEIRDO PICK
Mermaid Museum
WHEN: Thursday-Sunday, March 22-25
WHERE: Goya Studios, Stage C — 1541 N. Cahuenga Blvd., Hollywood
COST: FREE (RSVP required); MORE INFO
Forget Ariel. To promote "Siren," a new Freeform series about a mysterious woman who wreaks havoc on a sleepy coastal town, this installation includes a mermaid tank, 360-degree projections of underwater scenes, a tchotchke-filled mermaid shop and a photo op that lets you become a virtual mermaid.
---
CLASSICAL PICK
Bach in the Subways
WHEN: Wednesday-Sunday, March 21-25
WHERE: various locations at Metro stations
COST: FREE; MORE INFO
Celebrate the 333rd birthday of the original Baroque badass Johann Sebastian Bach, with pop-up performances of his music at Union Station, in North Hollywood and in Glendale. On Saturday, you can party like it's 1685 during a Bach marathon at Union Station (9 a.m. - 7 p.m.).
---
WEIRDO PICK, PART II
Redrum Parlor Speakeasy
WHEN: Friday, March 23, 8 p.m. - midnight
WHERE: Bearded Lady's Mystic Museum — 3204 W. Magnolia Blvd., Burbank
COST: $75; MORE INFO
A speakeasy inspired by the 1980 horror flick "The Shining"? Stanley Kubrick might not have approved, but that won't stop fans from enjoying Overlook-inspired cocktails, live jazz and art that pays homage to "The Shining." Vintage 1920s cocktail attire or Shining cosplay is encouraged, but not required.
---
SKY-HIGH PICK
Los Angeles County Airshow
WHEN: Saturday-Sunday, March 24-25, 9 a.m. - 5 p.m.
WHERE: William J Fox Airport — 4555 W. Avenue G, Lancaster
COST: $20, general admission; $15, kids 7-12; MORE INFO
Fans of aeronautics can ogle military jets, warbirds and all manner of flying aircraft. You'll also be treated to live, in-the-air and performances from flying teams and skydivers. On the ground, there'll be a major STEM exhibition for kids and aviation history panel discussions.
---
CULTURE VULTURE PICK
Cinderella
WHEN: Saturday-Sunday, March 24-25
WHERE: Lewis Family Playhouse — 12505 Cultural Center Dr., Rancho Cucamonga
COST: $41, general; $26, youth; MORE INFO
The Inland Pacific Ballet re-enacts the story of a young woman forced into indentured servitude by her wicked stepmother and cruel stepsisters, only to one-up them all by winning the heart of the region's most eligible bachelor.
---
FOODIE PICK, PART II
Waffles & Beer Festival
WHEN: Saturday-Sunday, March 24-25
WHERE: Pershing Square — 532 S. Olive St., downtown L.A.
COST: $5-7; MORE INFO
Apparently, it's a Swedish custom to celebrate Waffle Day on March 25. Honor that tradition with mimosas, live music, beer and a wealth of waffles, both savory and sweet.
---
SEASONAL PICK
Nowruz (Persian New Year)
WHEN: Sunday, March 25, 1-6 p.m.
WHERE: Bill Barber Community Park — 4 Civic Center Plaza, Irvine
COST: FREE; MORE INFO
Enjoy live performances, Persian food, tea and cookies, backgammon, kids' activities and a cultural display as you ring in the Persian New Year.
---
ANIMAL PICK
Peacock Day
WHEN: Saturday, March 24, 10 am.-3 p.m.
WHERE: L.A. County Arboretum — 301 N. Baldwin Ave.
COST: $9, general admission; FREE for Arboretum members; MORE INFO
Who doesn't love a peafowl? Indian dancing, music, crafts and food are on tap as the Arboretum honors India — the ancestral home of the its peacocks. The beautifully plumed birds are descended from birds acquired in the late 1880s by businessman Elias J. "Lucky" Baldwin, who owned the grounds where the botanical garden now sits.
---
MUSIC PICK
Beth Ditto
WHEN: Friday, March 23
WHERE: The Fonda Theatre - 6126 Hollywood Blvd., Hollywood
COST: $20; MORE INFO
WHEN: Saturday, March 24
WHERE: The Glass House — 200 W. 2nd St., Pomona
COST: $31; MORE INFO
The former lead singer of rock band Gossip brings her larger-than-life voice and take-no-prisoners persona to Southern California. Expect a raucous good time of singing and dancing.
---
How are you spending your weekend? Let us know on Twitter @LeoHasACat.