Elaine Hanson spoke for a lot of people this weekend when she said, "This is crazy. This is nuts."
 
Hanson had flown all the way from Virginia to Southern California for what's becoming a bit of a tradition here. SoCal Corgi Beach Day is a triannual canine confab when corgis from all over converge on Huntington Beach.
This Saturday it was the usual assortment of fat ones, and fluffy ones, tawny ones and tri colors. Many of them sporting hats and kerchiefs and tutus to show off one of their best assets.
 
"I was just kind of flipping through Facebook and saw that Corgi Nation was on the Saturday we were here, so we decided that California was going to be where we spend Spring break and we would bring our dog," Hanson said.
 
Jasper is her dog's name. He was one of many lookalike low riders happily romping through sand and surf at an event that draws ever more dogs each time.
Kelly Macklemore started SoCal Corgi Beach Day with her husband Dan almost six years ago.
 
"We just wanted to make friends," Macklemore said. "Meet other corgi people. Pet other corgis."
 
What started as a 15-dog meet and greet grew.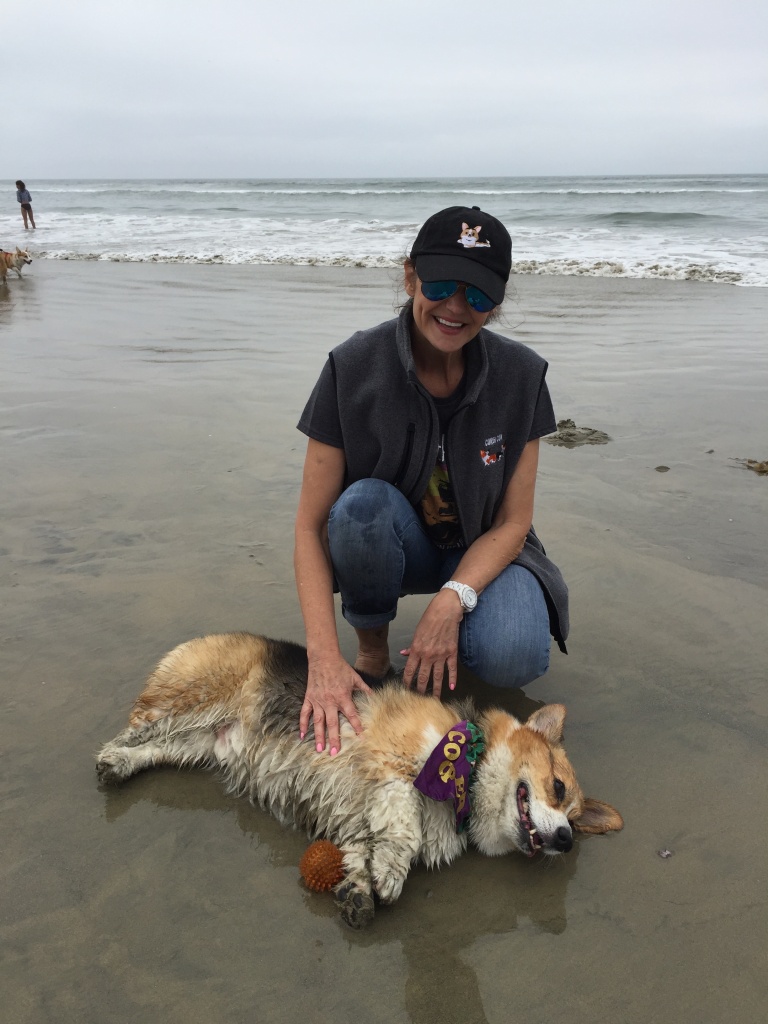 "We did it three months later, and 75 corgis showed up, and then we did it again and 200 showed up, and before we knew it... there were thousands of people and corgis."
 
Macklemore was wearing this year's themed T-shirt, with three corgis driving a vintage VW bus – something most corgis would probably try if given the chance. The breed is known for its free spirit.
 
SoCal Corgi Beach Day also sells towels and hats, but there are plenty of other vendors, pushing everything from designer poop bags and corgi pillows and picture books – for the humans – to dog treats and colorful bowties – for pup.
 
"I don't know where they all come from really," Macklemore said. "I never knew there were this many here, but people come from all over."
 
Sean Campanella is from a little bit closer by, in Glendora. He and his corgi Mocha wore coordinating outfits for this year's tiki-themed beach day -- Sean in a Hawaiian shirt and Mocha with a floral lei ringing his copious neck fluff.
 
He's a Corgi Beach Day old timer.
 
"I've been coming for the past five years," Campanella said. "It's awesome. I love seeing all the little dogs hanging around and so does my little pup."
One attendee really took the tiki theme to an extreme. He was wearing a grass skirt and a floral head wreath. And so were the three corgis trailing him.
 
There were also corgis dressed like lifeguards, hotdogs, ballerinas – even a corgi mermaid with a long blue tail hiding her butt tuft, laying at water's edge. A lot of them were competing in the day's costume contest.
 
But Corgi Beach Day doesn't discriminate. Plenty of other canines were in on the fun, including Noodle, the basset hound.
 
"You know what? Every corgi beach day needs a Noodle in the mix," said Kelly Bojarski, who drove all the way from Murietta with her non-corgi. "She doesn't quite know what to make of all these, but you know? We are dogs without boundaries. Anywhere there's dogs, we're there."
 
And as long as there's a SoCal Corgi Beach Day, so are a lot of other people and their pets.